Vi må ikke glemme folkedrabet i 1932-33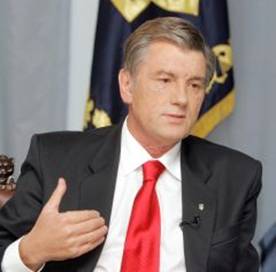 Af Viktor Jusjtjenko, Ukraines præsident 2005-2010
For 75 år siden blev det ukrainske folk udsat for en grusom forbrydelse. I Vesten kalder man denne forbrydelse "Den store hungersnød", og i Ukraine går den under betegnelsen Holodomor. Denne hungersnød, som var iværksat af staten, kostede i årene 1932-1933 ifølge diverse opgørelser mellem 7 og 10 millioner ukrainere livet, herunder en tredjedel af Ukraines børn. På brutal vis underspillede sovjetmagten katastrofens omfang ved at begrunde den med "en dårlig høst". De sovjetiske ledere forsøgte at fralægge sig ansvaret og dække over de menneskeskabte årsager og følger af denne tragedie. Alene dette er nok til at stoppe op og ære de omkomnes minde.
Under de mange årtiers sovjetstyre var det farligt for ukrainerne overhovedet at diskutere deres store nationale trauma. At nævne Holodomor ansås for at være en forbrydelse mod staten, mens erindringer fra de overlevende og bøger af historikere som Robert Conquest og den nu afdøde James Mace var forbudt som antisovjetisk propaganda. Alligevel bevarede hver eneste ukrainsk familie mindet om forbrydelsens omfang. Ukrainerne vidste, at dette overgreb var iværksat med fuldt overlæg og med det formål for øje at straffe Ukraine og tilintetgøre grundlaget for nationen. I dag forsøger det uafhængige Ukraine at få såvel den hjemlige opinion som det internationale samfund til at nå frem til at en dybere erkendelse og anerkendelse af Holodomor. Dette sker både af hensyn til de afdøde og den historiske sandhed. Men disse bestræbelser er ikke dikteret af et hævnmotiv eller forudindtagede politiske synspunkter. Vi ved, at russerne selv var nogle af Stalins hovedofre. Der er intet der ligger os mere fjernt end at give deres nulevende efterkommere skylden for tragedien. Vores eneste ønske er at opnå en forståelse af, hvad der i virkeligheden skete. Dette er baggrunden for, at det ukrainske parlament sidste år vedtog en lov, der betegner Holodomor som et folkedrab, og grunden til, at jeg beder vore venner og allierede om at støtte dette synspunkt. Hvis Verden ignorerer historisk hukommelsestab eller historieforfalskning, er den dømt til at gentage de værste af historiens fejl.
"Folkedrab" er et meget omstridt begreb, og der er nogle som stadig sætter spørgsmålstegn ved, hvorvidt det kan finde anvendelse på det, som skete i Ukraine. Lad os derfor gå tilbage til den juridiske definition af denne forbrydelse i FN's konvention mod folkedrab af 1948. Her defineres folkedrab som "handlinger der sker med det formål for øje helt eller delvist at udslette en hvilken som helst gruppe på grund af dennes race, nationale, etniske eller religiøse oprindelse", herunder "hvis man med forsæt udsætter en hvilken som helst gruppe for leveforhold, der har gruppens fuldstændige eller delvise tilintetgørelse for øje". Det ukrainske Holodomor lever til fulde op til denne definition. Det er værd at bemærke, at dette synspunkt også støttedes af Rafael Lemkin - den jurist, som udtænkte konventionen mod folkedrab.
I dag foreligger der talrigt historisk materiale, som dokumenterer Stalins tvangskollektiviseringspolitik og hungersnødsterror rettet mod Ukraine. Andre regioner i Sovjetunionen blev også hårdt ramt. Men den sovjetiske ledelse havde et andet mål med forfølgelsen og udsultningen af den ukrainske bondebefolkning, fordi dette var et led i undertrykkelsen af den ukrainske nationale bevidsthed og nationens selvbestemmelsesdrift. Nogle år forinden havde Stalin udtalt: "der findes ingen stærk nationalbevægelse uden bondemasserne <…> i realiteten er det nationale spørgsmål et bondespørgsmål". I et forsøg på at tilbagerulle den ukrainiseringspolitik, som i løbet af 1920'erne havde medvirket til at fremme en begrænset kulturel og politisk autonomi i sovjetrepublikken, besluttede Stalins sig for at ramme bønderne, som da udgjorde 80% af den ukrainske nation. Løsningen på det nationale spørgsmål i Ukraine blev et massedrab gennem udsultning.
Stalins metoder indbefattede fastsættelse af uopfyldelige kornafleveringskvoter, der ikke efterlod noget som helst brød til lokalbefolkningen. Hvis kvoten ikke blev overholdt, sendte myndighederne væbnede styrker ind i den pågældende region. Ved udgangen af 1932 var hele landsbyer og regioner omdannet til et system af isolerede og sortlistede hungersnødsghettoer. På samme tid fortsatte Sovjetunionen med at eksportere korn til Vesten og sågar fremstille alkohol af det. I begyndelsen af 1933 besluttede den sovjetiske ledelse en drastisk stramning af blokaden af de ukrainske landsbyer, som betød, at hele den ukrainske republiks territorium blev omringet af militæret og hele landet blev omdannet til en dødslejr.
Den klare antinationalistiske linje i Stalins handlinger kan også tydeligt aflæses i kampagnen mod de institutioner og enkeltpersoner, som havde medvirket til at udvikle det ukrainske folks kultur- og samfundsliv. Blandt Stalins ofre kan nævnes det ukrainske Videnskabernes Akademi, redaktionen af den ukrainske sovjetiske Encyklopædi, Den ukrainske Ortodokse kirke og sidst men ikke mindst Ukraines kommunistiske parti. Dette var en systematisk kampagne rettet mod det ukrainske folk og dets historie, kultur, sprog og levemåde.
Holodomor var et folkedrab, som havde til hensigt at knuse det ukrainske folk. Det forhold, at dette forsøg mislykkedes, og at Ukraine i dag lever som en stolt og uafhængig nation, giver ikke ret til at forklejne forbrydelsens alvor og fritager os heller ikke for det moralske ansvar, som forpligter os til at anerkende det skete. På 75-året for tragedien skylder vi ofrene for Holodmor og andre folkedrab at være ærlige i forhold til vores fortid. WSJ, 26.11.2007
Den store hungersnød i Ukraine (Holodomor) i 1932-33
The Great Famine in Ukraine in 1932-33
Udstilling - Exhibition
3.12.2007-14.12.2007
kl. 11-15
Kulturcenter Assistens
Kapelvej 4, 2200 København N
Åbningsceremoni den 3. december kl. 16 (adgang for alle)
The Embassy of Ukraine in cooperation with the Danish-Ukrainian Society
has the pleasure of inviting you to the international seminar on:
THE GREAT FAMINE (HOLODOMOR) IN UKRAINE IN 1932-1933
Tuesday, December 4, 2007, 15.30-18.30
Cultural Centre Assistens
Kapelvej 4 2200 Copenhagen N
Background
The man-made famine in Ukraine - Holodomor (extermination by famine deriving from holod – "hunger, starvation famine", and moryty – "to induce suffering, to kill") was the first obvious case when an inflicted hunger was used by the totalitarian regime as a weapon of political struggle and genocide against its own people.
As a result of the imposed famine at least 7 million people, mainly Ukrainian peasantry in the countryside who opposed the Stalin policy and practice of forced collectivization, were deprived of the most essential human right – the right to life, and were forced to starve to death in the most appalling way. Stalin always believed that the national question was "in essence, a peasant question" and that "the peasantry constitutes the main army of the national movement." By vanquishing the Ukrainian farmers the Stalin regime wanted to break the Ukrainian national revival that began in 1920s.
The Holodomor took place in a region considered to be the breadbasket of Europe as a result of exorbitant grain quotas imposed on Ukrainians and confiscation of food supplies, in many cases down to the last seed. The Soviet regime deliberately did not take any measures to prevent famine, continued to export large amounts of grain and kept the state strategic food reserves intact. Moreover, it created conditions for Ukrainians that could not support life. The starvation-hit area of Ukraine was isolated by armed units, so that people could not escape to the neighbouring Soviet regions in search of food where it was more readily available. The Soviet regime refused to acknowledge the starvation in Ukraine and turned down the assistance offered by various countries and international relief organizations.
The USSR and Soviet scholars continued to deny the fact of Holodomor. Only in times of Gorbachov's perestroika some of the archive documents became accessible, thereby making possible the documentation of the premeditated nature of the famine and its harsh enforcement.
Programme of the seminar
15.30-15.40

15.40

Welcome speeches

Introduction

Uffe Østergaard, professor of European and Danish history at Copenhagen Business School

15.45-16.15

The International Commission of Inquiry into the 1932-1933 Famine. A look in the rear-view mirror

Jacob W.F.Sundberg, professor of Jurisprudence emeritus at Stockholm Institute of Public and International Law

16.15-16.40

The massacres in Ukraine 1932-1933 in an international law perspective

Henrik Døcker, Vice-President of The Danish-Ukrainian Society

16.40-16.55

16.55-17.10

Q&A

Break

17.10-17.40

The studies of Holodomor in Ukraine

Mykhaylo Kirsenko, professor at the Department of European and Euro-Atlantic Policy, Diplomatic Academy of Ukraine

17.40-18.10

Writing history in the house of the Hanged: dealing with the Holodomor in independent Ukraine

Johan Dietsch, researcher at the Department of History, Lund University

18.10-18.25

18.25-18.30

Q&A, discussion

Сlosing remarks
Dr.Uffe Østergaard, professor in European and Danish history in Copenhagen Business School, former head of the Department for Holocaust and Genocide Studies, DIIS.
Dr.Jacob W.F.Sundberg, professor of Jurisprudence emeritus of Stockholm Institute of Public and International Law, Director of Studies, as a member of the International Organizations Expertise Missions in 1988-1990 was the President of International Commission of Inquiry into the 1932-1933 Famine and prepared the Final Report in 1990 to the UN and the Council of Europe. Besides a number of publications in European and American Law Reviews and anthologies, J.W.F.Sundberg wrote several articles on Holodomor: "Ukraine 1933: Come back on the works of the International Commission of Inquiry" published on the site francophone on Ukraine and "Den ukrainska hungersnöden. Historiean om en utredning" published in 10 Juridisk Tidskrift (1999-2000).
Henrik Døcker, journalist specialized in human rights and international law, Vice-President of The Danish-Ukrainian Society. Affiliated with the Danish Institute of Human Rights, has for more than 40 years contributed to Danish daily and periodical press on international affairs, international and humanitarian law, human rights, developing countries, international organizations. He worked for 38 years for the National News Agency Ritzau. Among his books are: "De europæiske enhedsbestræbelser" ("The Endeavours to unite Europe") and "Menneskeret i Europa" ("Human Rights in Europe – the protective system in Strasbourg").
Dr.Mykhaylo Kirsenko, professor at the Department of European and Euro-Atlantic Policy at the Diplomatic Academy of Ukraine and the Department of History, School of Humanities, National University Kyiv-Mohyla Academy. He coauthored the books "History of East-Central Europe" (2002) and "Balkan Studies in Soviet Ukraine" (1983), and has more than 160 articles and book chapters published in Ukraine, France, Germany, Italy, Luxemburg, Poland, Russia and Switzerland.
Johan Dietsch, PhD, researcher, Department of History, Lund University, coordinator of studies at the National School for Historical Studies, lecturer at the Department of Central and East European Studies at Lund University and the School of Teacher-Training, Malmö University. Among his publications there are several works on the Holodomor in Ukraine: "Den totalitära terrorn – Sovjetunionens kollaps och omtolkningen av stalinism och nazism" (Totalitarian Terror – The Collapse of the Soviet Union and rethinking Stalinism and Nazism), Making Sense of Suffering: Holocaust and Holodomor in Ukrainian Historical Culture, Lund University 2006 (dissertation), "How the Holocaust Looks Now: International Perspectives", 2006, "Ukraine and the Ambiguous Europeanisation of the Holocaust: Incorporating the Final Solution in a post-Soviet Historical Culture", i Klas-Göran Karlsson & Ulf Zander, "The Holocaust – Post-War Battlefields. Genocide as Historical Culture", Lund: Sekel Bokförlag 2006, "Holodomor and the Ukrainian Identity of Suffering: The 1932-1933 Ukrainian Famine in Historical Culture", ">From Famine to Forgotten Holocaust. The 1932-1933 Famine in Ukrainian Historical Cultures", Karlsson, Klas-Göran & Zander Ulf (eds) Echoes of the Holocaust. Historical Cultures in Contemporary Europe, Lund: Nordic Academic Press, 2003,"Ukrainas postkommunistiska historia – Fast i det förflutna?", 2002.
Practical Information
The seminar will be held in English.
Participation is free of charge but registration is required by e-mail embassy.ua@mail.tele.dk or by fax 33 16 00 74 not later than November 30, 2007. Please await confirmation for participation.